Zelf antislipstrips aanbrengen op je trap
Het is erg belangrijk om antislip aan te brengen op je trap om uitglijgevaar te voorkomen. Zeker als je trap net geschilderd of geschuurd is.
Het aanbrengen van de antislip op je trap is makkelijker dan je denkt, en je kan het zelf ook! Het eerste wat je doet is ervoor zorgen dat de ondergrond stofvrij, vetvrij en schoongemaakt is. Dit kun je het beste schoonmaken met alcoholdoekjes. Pak de antislip tape en knip de tape op de juiste afmeting. Tip: hou nog speling over, zodat je dit later nog kan corrigeren. Tijdens het aanbrengen van de antislip tape kan je een roller gebruiken om de strip goed aan te drukken tegen de trap.
Het afsnijden van de strip
De sleuf van de trap loopt vaak aan het uiteinde rond af. Je kunt dan het beste de antislip strip schuin afsnijden van boven naar beneden. De rondingen kun je op deze manier goed wegwerken.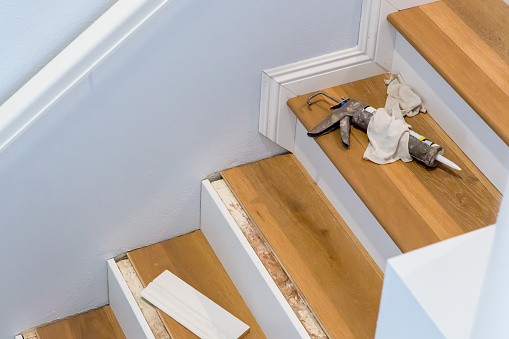 Het plakken van de strip
Hou altijd een halve centimer meer over dan je nodig hebt. Dit geeft je speling en zo kun je van buiten naar binnen werken. Zorg wel dat dit gelijkmatig gebeurt vanuit beide kanten.
Verschillende soorten en maten strips
Er is veel keuze als het gaat om de soorten antislip strips en de kwaliteit ervan. Ga je voor een wat betere kwaliteit? Dan kun je beter een strip kopen van tenminste 1,5mm in dikte. Wil je juist een wat smallere strip? Geen probleem, deze kun je gewoon op maat snijden, of een smallere strip bestellen.
Met deze tips moet het zeker lukken om mooi en goed de antislip strips aan te brengen. We wensen je veel succes!
Bron: antislipstrip.nl